Kilimanjaro Carrier Aprons
Here are a few of the amazing and beautiful women in small villages throughout Africa that have a passion for changing the future of their children. Kilimanjaro Carriers works with some of these women – most of them living in villages near the base of Mt. Kilimanjaro.
Their skills, coupled with simple business knowledge, result in small business enterprises that produce exquisite one-of-a-kind African fabric aprons.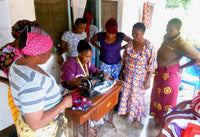 Meet the Artisans:
These mamas are part of a cooperative called WAKA. Together as a team they procure materials, cut fabric pieces and assemble each apron on a community sewing machine.
Meet the Founder:
The founder, Cinde Dolphin, volunteered in Tanzania in 2014. Good fortune allowed her to work with a woman's microloan cooperative near the base of Mt. Kilimanjaro. Together they crafted an apron design using local kitenge fabrics.